Kindle is an App offered by Amazon that allows users to read and listen to e-books and audiobooks. It was first designed to be the app to accompany Amazon's new e-book service. Since then it has become the premier force in the world for e-books, with many different versions that can be enjoyed on an e-reader, a mobile device, a tablet, or even on your browser. Kindle isn't the only e-reader app of its kind, but it is widely regarded as one of the best.
Kindle Main Features
Kindle was designed first as the interface for the Amazon Kindle e-reader. Since then they have created various apps that allow users to access their library on a variety of different devices.
We're going to be mostly exploring the kindle apps that you'll find on mobile devices and on the PC, but just know that the app works fairly similarly on a Kindle Paperwhite tablet.
Kindle software has been designed to work with uniformity, and it's one of the reasons that users enjoy it so much.
In short, Kindle allows users to access amazon's online store of countless book titles.
From here, users can purchase and download them straight onto their device of choice. Once a book is downloaded, you can open it up and read it as though it were a physical book.
One of the main reasons for Kindle's domination of the e-book market is how accessible it is. The app allows users to customize the book they're looking at, changing the font, its size, and the layout of the page.
Kindle also comes with a handy reading speed tracker that will predict how long you'll have left in the chapter or entirety of the book ahead of you.
Another thing that users enjoy is the simplistic user interface and organization systems.
For example, you can easily organize your library into folders, whereupon you can search through them to find the book you want at a moment's notice.
Another handy feature is the way that you can highlight words and keep them for future reference.
This is an especially great feature for students or academics who are writing critically about the book that they're reading.
How To Use Kindle
Kindle is very easy to use and set up, particularly if you already have an Amazon account. If you want to download it on your mobile device, all you need to do is go onto the IOS or Google Play store and search for it.
Once you've done this, download the app and you'll see that it will be in your downloaded apps within a few moments. If you're yet to buy any books, you will see an empty library and will be prompted to visit the Kindle store.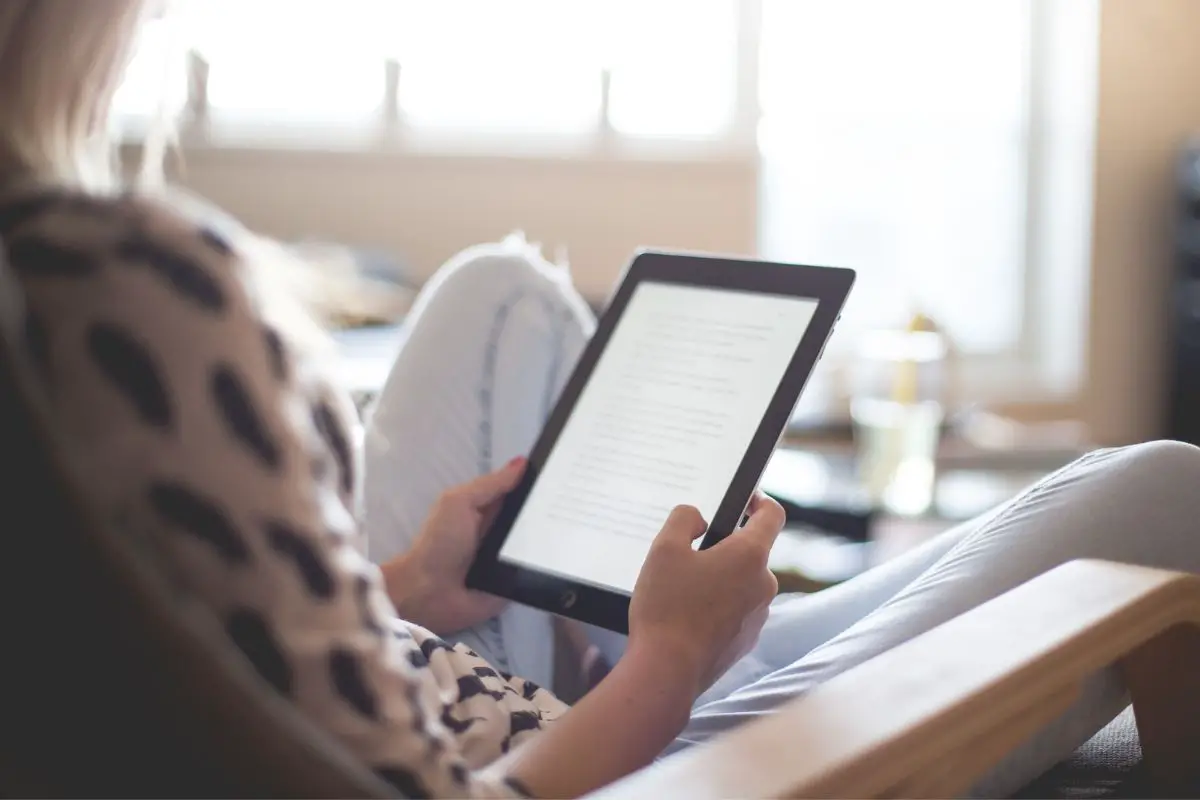 To access Kindle on a desktop or laptop PC, you should know that they have a free application that you can download. Simply navigate to the Kindle website, and download it there.
From here, you'll be able to access the whole library that you can also find on your mobile device, or on your Kindle e-reader.
So you might be wondering where to go from here. The first option you have would be to simply pick some books and start reading.
Each book that you purchase will trigger a short download, and you will be able to access it on any device that you want at any time.
However, you also have the option to download a wide variety of free books.
Many authors choose to publish their books and promote them for free months. During this time you can simply download the e-book and keep it forever.
Another option you have with Kindle is to subscribe to Kindle Unlimited. You can think of this as a Netflix subscription but for books!
Kindle will offer you a huge library of different books that you'll be able to download instantly, including a large list of some of the most cutting-edge authors out there.
This can be a great way to get some instant value for money, especially if you read a lot.
Kindle VS Alternatives
There are a few different alternatives that you can choose instead of the Kindle app for e-books, but in truth, none of them really rival its slick user interface and a wide variety of books available for download.
For example, you can opt for Google Play Books, which is one of the main rivals to Kindle. The truth is that this app doesn't have a wide variety of different titles on offer, nor does it give you the same kind of user experience.
However, if you're looking to stay away from Amazon Kindle, then it's a great alternative and you won't find that many differences.
Kindle Pros And Cons
Kindle has a wide variety of great features that set it apart from its competition, and you're going to want to consider these before committing to it as your primary e-book application.
Let's take a look at some of these below.
Pros
Library Options: Kindle has some of the best cataloging and user interface options that help you to easily locate the book you want to read. Let's say you read in a lot of different genres, Kindle allows you to create folders with different titles so you can separate the different titles you're reading.
Selection: Amazon has been the king of physical and e-books for a long time, and as a result, it has one of the most impressive selections of books you'll be able to find. With their easy self-publishing support, you will also be able to find a huge variety of different titles from authors who have not been traditionally published.
Cons
Eye Health: if you only ever read on the Kindle app, you're going to find some issues with your eyes. This is why most people suggest getting a Kindle Paperwhite, as they have been specifically created to support your eyes over long sessions of reading.
Is Kindle Worth The Download?
If you're looking for the king of e-reader applications then Kindle is going to be the only choice for you.
Although there are some other apps you can use, none of them offer the variety and slick experience that Kindle does.
We'd highly recommend giving it a go if you want to get into the world of e-books.